`Thanksgiving Winter Storm Forecast for Wyoming
`Thanksgiving Winter Storm Forecast for Wyoming

SYNOPSIS: A significant winter storm over the Great Basin will likely impact much of the area beginning late Tuesday Night with snow, heavy at times, possible through Thanksgiving Day.
Colder upslope flow will develop east of the Continental Divide Wednesday with areas form Casper to Lander and southward looking most favorable for the heaviest snow amounts.
Strong northeast winds will likely cause areas of blowing and drifting snow, with areas of very limited visibility across portions of central and southern Wyoming, including Interstate 80. The details of this upcoming winter storm are still coming into view, but those who are planning to travel this holiday should pay close attention to the timing and expected impacts of this storm.
Click Loop To Enlarge
The above loop shows what one of our model solutions – the Global Forecast Model (GFS) is advertising for accumulating snow amounts for this storm. It would not be a great idea to focus on the exact amounts at this time, but if you are curious, the red shaded areas show over 5″ of storm total accumulation, with a bulls-eye of over a foot in the
central Wind River Basin
, along portions of the
Interstate 80
corridor, and in the
Tetons
.
What you should note is the large area that is expecting significant, disruptive snow accumulations with the primary impact form the storm expected on two of the busiest travel days of the year, the day before Thanksgiving through Thanksgiving Day.

IMPACTS:
Click Image To Enlarge
Summary | Forecast | Travel Center | Monitoring & Reporting | Safety

NWS Text Products and Forecasts
Storm Information – Created at 135am on Saturday Morning
Click Image To Enlarge
Snow and Wind Forecasts – Update Every 3 Hours
12 Hour Snow Accumulation Forecast
Click Image To Enlarge

12 Hour Peak Wind Gusts
Click Image To Enlarge
24 Hour Snow Accumulation Forecast
Click Image To Enlarge

12-24 Hour Peak Wind Gusts
Click Image To Enlarge
36 Hour Snow Accumulation Forecast
Click Image To Enlarge

24-36 Hour Peak Wind Gusts
Click Image To Enlarge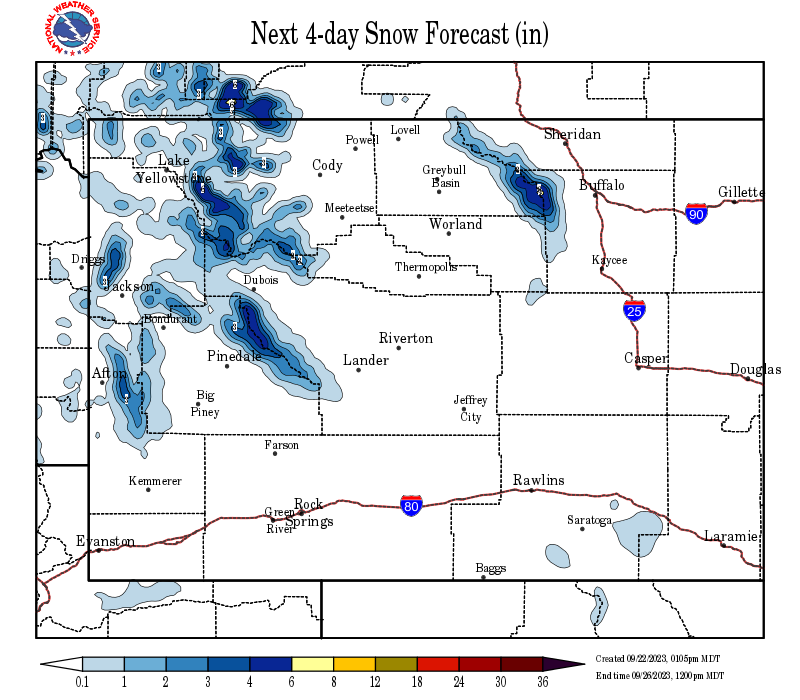 96 Hour Snow Accumulation Forecast
Click Image To Enlarge
High and Low Temperature Forecasts – Update Every 3 Hours

Today's High Temperature
Click Image To Enlarge

Tonight's Low Temperature
Click Image To Enlarge

Tomorrow's High Temperature
Click Image To Enlarge

Tomorrow Night's Low Temperature
Click Image To Enlarge

Day 3 High Temperature
Click Image To Enlarge

Day 3 Low Temperature
Click Image To Enlarge